So, here's my still transit wrapped F-Pace Portfolio, which I posted in the caesium blue thread:
I'm having the dealer install the gloss black side vents -- that's being done tomorrow. Then Thursday I take it to a local detailer for front-to-back paint correction, black gloss wrapping of the window trim. and 4 layers of Ceramic Pro 9H. Here's the choices I still have to make, and would love opinions:
1. Do I wrap the front grille in gloss black?
I'd been thinking yes, but if you look at a first edition in the blue the side trim work is all black, while the front grille is chrome. And I think it looks awesome. I'm going to keep my roof rails chrome (I don't want to wrap a part that's going to have the towers mounted on it), and I feel like black on the sides and chrome on the center line could look balanced. I'm also leaving the wheels chrome. Here's a quarter-front view of a FE:
And a fully blacked out FE:
I think the front end chrome and side black is more balanced somehow?
2. Do I replace the mirror caps with gloss black?
It's supposed to be an easy switch, and I can't find a single example of an F-Pace out there with the color mirror covers replaced in the black. It would definitely darken the lines above the doors.
3. Do I replace the red wheel hubs with these blue ones on ebay?
The build quality looks marginal, but hey, they're blue!
4. Do I get a shift dial growler?
My interior is Sienna. I'm thinking a red one, but only if I keep the wheel caps red. I can't find one in blue. Here's the one I'd get in red: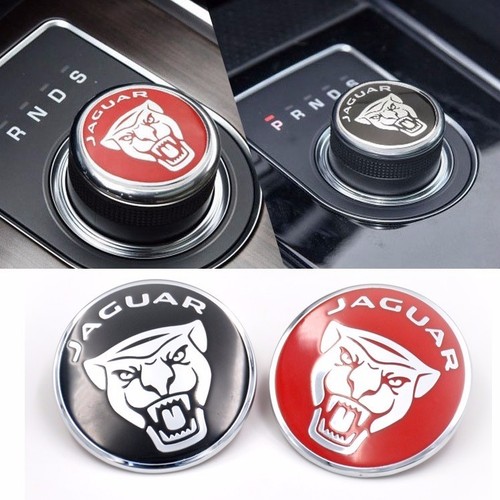 5. Do I get MGP brake caliper covers?
If yes, I'd do them in blue, with leapers, and those silly fake bolt holes removed. I'm leaning against this, as the spokes on my wheels are so tight together I feel like the caliper covers get lost when it's parked. Here's an image of what I'd spec up:
6. What else?